Okay, you've decided to schedule a McLemore Golf School at the McLemore Golf Resort this Fall.  Your spouse wants to come to McLemore while you're at golf school and enjoy the peace and tranquility of Lookout Mountain, Georgia. But you know your spouse will not sit in your stay and play home or villa very long.  She or he will need to have something to do. Is there anything to do at McLemore?  There absolutely is!
There are more events and activities for your spouse to experience while staying at McLemore Golf Resort. More than you can imagine! Below are just some ideas that are available for your spouse, and possibly you, to experience while you're at McLemore this Fall.
More to McLemore Golf School than Meets the Eye
Your spouse is looking for a "golf school lite". Where do you find that at McLemore? Through John Hughes Golf or one of the pros at McLemore Golf Resort. Your spouse can take a lesson at the well-appointed practice facility. Or a playing lesson on The Cairn, McLemore's 6 hole short game course.
Is there Anything Else to do At McLemore besides Golf?
YES! Think of something you like to do at home, when not golfing, and you'll find it at McLemore. Or within minutes of McLemore.
Music
The McLemore Singer/Song Writer Concert Series concludes for 2023 with Marc Broussard. Marc is an artist with a unique gift of channeling the spirits of classic R&B, rock, and soul into contemporary terms. Broussard's incomparable brand of soul–an infectious mix of rock, blues, R&B, funk-pop, and soul coupled with his powerful vocals-has garnered worldwide praise from critics and fans alike. Marc starts the finale of the concert series at 7:30pm, October 12, 2023.
Food and Wine
The Creag
Obviou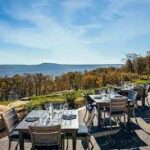 sly, you'll want to make a couple trips or more to The Creag, McLemore's award-winning dining experience. Uniquely different and seasonal menus for breakfast, lunch, and dinner are awaiting your taste buds. Choose to dine inside. Or experience the patio view of McLemore Cove. No matter where you sit, the warmth of the service you'll experience, as well as the outstanding menu offerings of food and spirit, will be a culinary experience worth remembering.
This is a very popular wine experience in Chattanooga, TN, where you experience wine while sitting on top of the Walnut Street Bridge, while the Tennessee River flows below you. A variety of wines, music, and tasting experiences will all take place October 7. For tickets, visit https://www.preservechattanooga.com/wineoverwater
Parks and Trails
There are so many parks, trails, and exploring opportunities in and around Lookout Mountain, Georgia, that we'd fill up many months of blog posts.  Here are the ones that are the most popular and easiest to get to.
Sun Downer Experience
At McLemore, you can schedule a LandRover tour of the property.  Visit soon to be developed areas. As well as all the scenic overlooks of the east and west side of Lookout Mountain.  You can even arrange for your favorite beverages and snacks to meet you at one of the scenic overlooks.  These are guided tours that require an advance reservation.  Contact the Conceirge at McLemore for details.
Point Park
This park is located at the top of Lookout Mountain and offers stunning views of the surrounding area. There are many monuments and memorials in the park, as well as hiking trails and picnic areas.
Sunset Rock
This park is located on the side of Lookout Mountain and offers views of the Tennessee River Valley. There is a hiking trail that leads to the top of the rock, where there is a small overlook.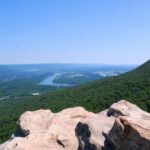 Scenic Highway
This highway winds its way up Lookout Mountain and offers stunning views of the surrounding area. Stop at one of the many pull-offs along the highway where you can stop to take photos or enjoy the scenery.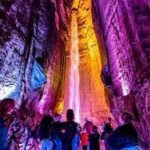 Ruby Falls
This cave is located on Lookout Mountain and features a 145-foot waterfall. Tours are available to the public.
Rock City
This garden park features many unusual rock formations, as well as caves and waterfalls. Tours are available to the public.
Cherokee Rock Trail
This trail park, located in Rising Fawn, Georgia, offers a variety of terrain, from beginner to advanced. Numerous rock formations along the trails make this a great place to practice your rock-climbing skills. Or learn!
Something for Everyone
Is there anything to do at McLemore?  You bet there is!
No matter your or your spouse's interests away from golf, McLemore Golf Resort provides a uniquely different approach to amenities during the Fall.  Whether you decide to stay on property when participating in a McLemore Golf School. Or stay somewhere else. Your time in Lookout Mountain, Georgia should be anything but boring.  The facility and surrounding area is arguably one of the best kept vacation destinations in the United States.  And it is awaiting you this Fall.